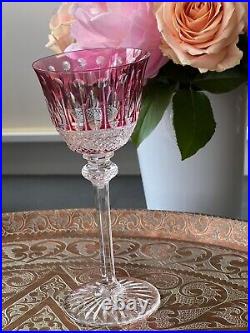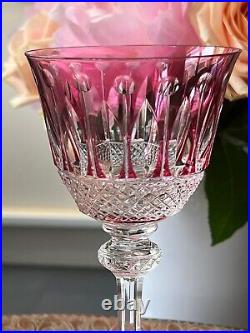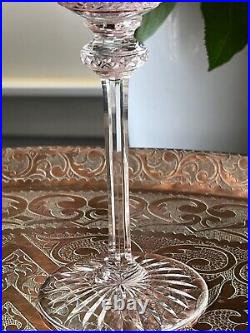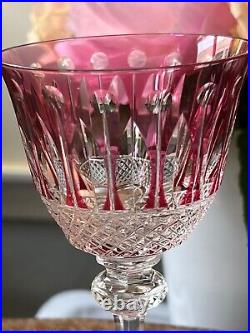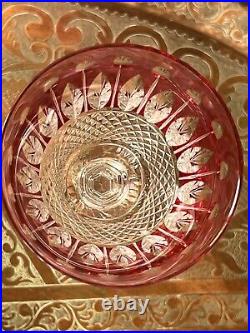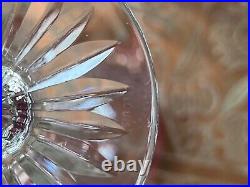 Cristal Saint Louis Roemer Tommy rose signé très bon état. Superbe Roemer de la collection Tommy de Saint-Louis. Appelé aussi verre à vin du Rhin, ce Roemer de couleur rose est en très bon état. Le verre Tommy est né en 1928, pour le dixième anniversaire de l'armistice de la Grande Guerre. Il est baptisé ainsi en référence au surnom des soldats britanniques. En 1938, un an après que la maison Saint Louis ait reçu le Grand Prix à l'Exposition Universelle de Paris, le service de verres Tommy est choisi pour habiller la table d'un déjeuner de gala donné en l'honneur du roi George VI et de la reine Elizabeth, dans la galerie des Glaces du château de Versailles. A la table des souverains britanniques, ce 21 juillet 1938, onze verres ont été disposés devant chaque convive. Chaque pièce a été soufflée à la bouche, puis taillée à la main. Pour les 200 invités, on a donc fait souffler 2 200 modèles uniques. Cette réception en grande pompe censée renforcer l'entente des deux peuples est aussi une réclame éblouissante pour la collection Tommy, dessinée par Joseph Bleichner. Ce déjeuner historique en fait un incontournable de l'art de la table – dès lors, le Verre Tommy symbolisera l'excellence à la Française! Pour le créer, il ne faut pas moins d'une quinzaine d'artisans, et une dizaine de jours. Le verre est estampillé Saint-Louis sous le pied : la signature est présente mais assez discrète. Dimensions : hauteur 19,8 cm et diamètre au buvant 8,5 cm. Vente à l'unité. Le mot du Manège de Zébulon : les verres qui vous sont proposés sont des verres d'occasion, qui peuvent comporter de légères traces d'usure (micro-rayures par exemple) mais ils sont en très bon état et sans aucune ébréchure. Je les ai choisis avec soin, et sélectionnés pour leur brillance et leur élégance. Chaque verre porte l'estampille Saint Louis sous le pied, qui atteste de son authenticité et de la qualité du travail réalisé par des artisans d'exception. Les objets sont emballés et expédiés avec le plus grand soin pour tenir compte de leur fragilité. En cas de problème, n'hésitez pas à me contacter immédiatement afin de trouver la meilleure solution. Renseignez-vous auprès du service des douanes du pays de destination. Un peu d'histoire… Saint-Louis est l'une des plus belles cristalleries de France et d'Europe, au même titre que Baccarat. Avec son statut de « Verrerie Royale » au XVIIIe siècle, elle va rapidement s'imposer comme l'une des grandes manufactures des arts décoratifs français. Ses maîtres verriers et ses maîtres tailleurs vont produire des services de table, des luminaires, des objets décoratifs et autres pièces de grande qualité. Saint-Louis utilise les techniques du cristal moulé, soufflé, simple ou multicouche coloré (overlay), de la taille à la roue, de la gravure à l'acide réalisée à la main, etc. A l'origine, Saint Louis s'établit sur une ancienne verrerie datant de 1586 et située dans la vallée de Münzthal (Saint-Louis-les-Bitche) du massif des Vosges en Lorraine. En 1767, elle devient verrerie royale de Saint-Louis, sous le règne de Louis XV. En 1781, les chimistes français découvrent la fabrication du cristal au plomb. La manufacture prend alors le nom de Compagnie des Cristalleries de Saint Louis. Dès 1825, sa production se concentre exclusivement sur les pièces de cristal et le développement des techniques associées. La participation aux Expositions Universelles, les cadeaux diplomatiques, l'équipement des paquebots de croisière comme le "France", les tables de l'Élysée vont contribuer à la renommée de la cristallerie Saint-Louis. En 1989, la maison de luxe Hermès prend une participation dans la Cristallerie de Saint-Louis. Elle intégrera entièrement le groupe Hermès en 1995. Aujourd'hui comme hier, le cristal est toujours soufflé à la bouche, taillé à la main, gravé et décoré à la main par des maîtres verriers et maîtres tailleurs parmi les meilleurs ouvriers de France. C'est la raison pour laquelle chaque verre est un peu différent, notamment au niveau de son poids qui peut varier légèrement. Saint Louis Crystal pink Tommy Roemer glass signed excellent condition. Superb Roemer glass from the Saint-Louis Tommy collection. Also called Rhine wine glass, this pink Roemer is in very good condition. The Tommy glass was born in 1928, for the tenth anniversary of the armistice of the Great War. It is named after the nickname of the British soldiers. In 1938, one year after Saint Louis received the Grand Prix at the Paris World Fair, the Tommy glass set was chosen to dress the table for a gala lunch given in honor of King George VI and Queen Elizabeth in the Hall of Mirrors at the Palace of Versailles. At the table of the British sovereigns, this July 21, 1938, eleven glasses were arranged in front of each guest. Each piece was mouth-blown, then hand-cut. For the 200 guests, 2,200 unique models were blown. This grand reception was meant to strengthen the understanding between the two peoples and was also a dazzling advertisement for the Tommy collection, designed by Joseph Bleichner. This historic luncheon made it an essential part of the art of the table – from then on, the Tommy glass symbolized French excellence! To create it, no less than fifteen craftsmen and ten days are needed. The glass is stamped Saint-Louis under the foot: the signature is present but rather discreet. Dimensions: height 19,8 cm (7,8″) and diameter at the top of the glass 8,5 cm (3,3″). A word from Le Manège de Zébulon : the glasses which are proposed to you are second-hand glasses, which can comprise light traces of use (micro-scratches for example) but they are in very good state and without any chipping. I have chosen them with care, and selected them for their brilliance and elegance. Each glass bears the Saint Louis stamp under the foot, which attests to its authenticity and the quality of the work done by exceptional craftsmen. In case of problem, do not hesitate to contact me immediately to find the best solution. A bit of history… Saint-Louis is one of the most beautiful crystal factories in France and Europe, just like Baccarat. With its status of "Royal Glassworks" in the 18th century, it quickly became one of the great French decorative arts factories. Its master glassmakers and master cutters produce tableware, lighting fixtures, decorative objects and other high quality pieces. Saint Louis uses the techniques of molded, blown, single or multi-layered colored crystal (overlay), wheel cutting, handmade acid etching, etc. Originally, Saint Louis was established on an old glassworks dating from 1586 and located in the valley of Münzthal (Saint-Louis-les-Bitche) in the Vosges mountains in Lorraine. In 1767, it became the royal glassworks of Saint-Louis, under the reign of Louis XV. In 1781, French chemists discovered the manufacture of lead crystal. The factory then took the name of Compagnie des Cristalleries de Saint Louis. From 1825 onwards, its production focused exclusively on crystal pieces and the development of associated techniques. In 1989, the luxury brand Hermès acquired a stake in the Saint-Louis Crystal Works. The company became part of the Hermès group in 1995. Today, as in the past, the crystal is still mouth-blown, hand-cut, engraved and decorated by hand by master glassmakers and master cutters among the best workers in France. This is the reason why each glass is a little different, especially in terms of its weight which may vary slightly. Cet item est dans la catégorie "Céramiques, verres\Verre, cristal\Grands noms français\Verres, flûtes, services". Le vendeur est "manegedezebulon" et est localisé dans ce pays: FR. Cet article peut être expédié au pays suivant: Monde entier.
---
Posted by admin on October 5th, 2022 :: Filed under
cristal
Tags ::
condition
,
cristal
,
etat
,
good
,
louis
,
roemer
,
rose
,
saint
,
signe
,
tommy
,
tres
,
very
Both comments and pings are currently closed.
---